When someone on Quora asked The English have Shakespeare, and the French have Molière. Who represents your language?, Ansh Chowdhari expressed his views about Dogri language.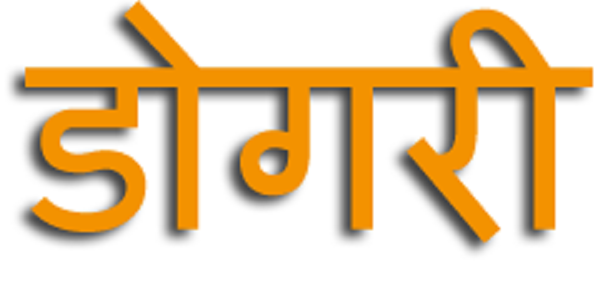 Here's what he wrote:
My Language is Dogri, which is comparatively a new language in the sense that the literary work in this language started to come out in 19th century only(earlier work is either forgotten or lost), though the language finds mention in the memoirs of Amir Khusro. Prof Ram Nath Shastri is credited for taking Dogri at the national level and infusing it with a new life altogether.

Padma Shri Ram Nath Shastri, known as the "Father of Dogri" for his pivotal role in the revival and resurgence of the Dogri language, was born on 15 April 1914. He was a versatile and prolific litterateur who excelled as Dogri poet, dramatist, fiction writer, lexicographer, essayist, educationist, translator, and editor. Through his writings in the various genres he has succeeded in urshering Dogri language on the national stage.

In 1944, on the day of Basant Panchami, along with a few friends, he established the Dogri Sanstha. Every upcoming writer in the Dogri language would first enroll himself in the Sanstha .Dogri is highly indebted to Professor Ram Nath Shastri, who is always giving it his paternal blessings. He also edited the Dogri literary periodical Nami Chetna of the Sanstha. In 1970, on the occasion of the Silver Jubilee Celebration of Dogri Sanstha, he edited the RAJAT JAYANTI GRANTH in which research oriented articles on Dogra life, art, culture, literature and history were put together

From 1977 to 1985, as Chief Editor in J&K Cultural Academy he edited the 'Dogri – Dogri Dictionary′ which is regarded as a monumental addition to the development of the Dogri language for J and K Cultural Academy.

His Major Literary Works are as follows:

Dharti Da Rin is a collection of poems he wrote over a thirty -five-year period.
Badnami Di Chhan- Collection of Dogri short stories. (1976)
Talkhiyan – A collection of Dogri Gazals
Kalamkaar Charan Singh – Critical Study of a Dogri Poet
Naman Gran– Dogri Play (with co-authors Dinu Bhai Pant and Ram Kumar Abrol)
Bawa Jitto – A Dogri Play based on the life and sacrifice of a legendary Dogra hero
Jhakdian Kiran – Dogri One-Act Play
Duggar De Lok Nayak – An account of dogri

He translated array of prominent works in Dogri to further dogri language including-

Six Upanishads
Bhartrharis's NEETI SHATAK
Shudraka's Mricchakatikam (1989)
Four short plays of BHASA
Rabindranath Tagore's Gitanjali-Balidan, Malini and Dakghar
Mahatama Gandhi's autobiography –My experiments with Truth
Vinoda Bhave's Gita Pravachan
C.Rajagopalachari's Ramayana
Dharamveer Bharati's Andha Yug
Gorki's Lower Depths

Professor Shastri began his literary career with the writing of Hindi short stories and essays as Dogri was more of a regional local language with insignificant literary history. Later, he resolved to be at the forefront of the Dogri literacy movement.

Later, in 1943 he along with his fellow writers, switched over to writing in his mother tongue Dogri, giving impetus to the spirit of renaissance in the community to recognise and appreciate the beauty of their language He has contributions in different genres to his credit and he worked tirelessly to promote the Dogri Language.

Prof. Shastri presented an ideology that he believed in, shunning old and outdated values and embracing values like- fairness, equality and individual heroism. His writings have undercurrents of satire and irony as he exposes the double standards of our society. He always placed emphasis on writing biographies of dogri heroes, who challenged establishment and followed a track unvisited by others. When asked to write his own autobiography, he was hesitant as his humility would pose a major hurdle in doing so.

He was awarded/honoured by the following:

2001—59th Sahitya Academy Fellowship-highest literary honour conferred by the Government of India for his contribution to Dogri Language
1990—Padma Shri Award, India's fourth highest civilian honour for Literature & Education[3]
1994—D. Litt. (Honoris Causa) from University of Jammu
1977—Sahitya Academy Award for his short story collection – Badnami Di Chaan
1991—State Akademi Award for the collection of Dogri gazals – TALKHIYAN
1989—Sahitya Academy Translation Prize in 1989 for the Dogri Translation of the Sanskrit Drama, Mrichakatika as Mitti Di Gaddi.
1981—State Academy Award for his Dogri prose work – Duggar De Lok Nayak.

Prof Shastri died on 8th March 2009, but his legacy still inspires and motivates thousands of Duggars. The literary movement which he initiated has now reached a new level altogether with new people coming into it. He inspired a whole new generation with his books, ideas and personality. He still continues to live in our hearts.

Jai Duggar !!