In an age when most people keep complaining about lack of time, an officer of the Indian Police Service (IPS), Sandeep Chaudhary has started free coaching classes for aspirants of competitive exams in Jammu while keeping his day job.
The SP (South), Jammu, began the mission with 10 students but now, the number of aspirants has crossed 150. Earlier, he started classes only for aspirants for the J&K Police Sub-Inspector Examination to be held on June 24 but later, he started preparing students for SSC, banking and UPSC exams too.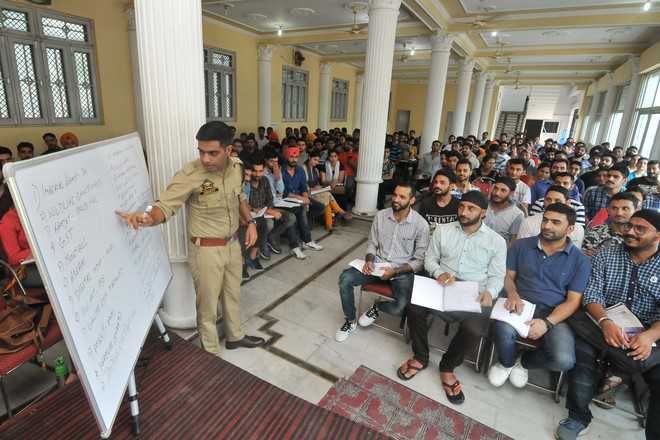 Calling it 'Operation Dreams', he started his classes from May 30. Every morning for two hours he would teach the candidates. It started with 10 students who aspired to become sub-inspectors in the state police. At that time he was taking classes in his office chamber.
With the increase of the number of students to 150 within a day, he shifted to the new class on June 1. The classes are now being held in a private community center from 8 am to 10 am for two hours at the Rani Plaza Banquet Hall in the Nai Basti area of Gandhinagar, Jammu near the police station after the owner voluntarily offered support to his initiative. He will continue the classes till June 23, a day before the scheduled date of the examination for sub-inspectors.
"I was discussing the upcoming examination for the post of sub-inspector with my colleagues when the idea to start free coaching for aspiring students came to my mind… Each day, the number of students is growing and the brighter part of the initiative is that more than 25 girls are coming for the classes," Chaudhary told PTI, as reported by NDTV.
A 2011-batch IPS officer of the J&K cadre, Chaudhary hails from Ferozepur district of Punjab. He did his Bachelors of Arts and Masters of Arts from Indira Gandhi National Open University before clearing the UPSC examination in 2011.
Read also: An officer demoted himself to drove out Pakistanis from the valley
Sandeep, talked to his students about how he never got a formal college education and how with the help of his friends and seniors he cracked UPSC.
"I did my BA and MA from Indira Gandhi National Open University. I joined Panjab University for regular course in journalism for about three months but then I dropped out due to circumstances and joined MA in public administration from IGNOU. I completed my education through correspondence – which was not very costly but I was guided at every stage, even during UPSC preparation, by friends and seniors," he said, making a point to the students that costly coaching is not essential to achieving their goals.
A firm believer in integrated learning, Chaudhary said, "Getting through tough exams is possible even without costly coaching. Focused approach and learning through participation also leads to faith of the youth in the system. We can help youth in building their careers."
He believes that a politically aware citizenry is not possible without educated youth. "Employment is the largest challenge for the youth and making them capable to achieve their professional goals helps them become better citizens," the police officer said.
We appreciates this officer's dedication and hopes that more officers follow suit.
[With inputs from online reports]