Folk Dances in Jammu province:: Dances express the innermost joy and happiness of a man. These are the real pictures of the life of the people and their folk culture. Dances are always connected with some fairs, festivals or worship of God or Goddess. Main dances of Jammu Province are Dogri Bhangra, Gogri Dance, Letri Naach, Chowki Naach, Jattar, Jagarana, Keekli and Rouf etc.
Following Dance forms are the evidence of the rich cultural heritage of Jammu:
In actions, costumes and songs, Dogri Bhangra is totally different from Punjabi Bhangra. These dances performed on the fairs and festivals, every action depicts the harvesting process. Performers with sticks and handkerchiefs dance in a circle on the drumbeat. The Bhangra details the joys and sorrows of lover's meetings and partings.
Jagarna:: This marriage song cum-dance form has the elements of theatre. While the menfolk of the bridegroom's house have gone with the Barat women folk are left alone in the house. The bridegroom's mother, aunts, grandmother and other relations indulge in gossips revelations of their marital life and the behaviour of their husbands. But sometimes, in right earnest, they reveal some intimate incidents and spend the night in the atmosphere which is un-interrupted by menfolk continuing the night with flow of unending gossip and the movement of frolicking feet.
The Bindloo and the Jagarna are the dances set to the theme of marriage and martial relationships. Women perform Jagarna. Children and men cannot even witness this dance. It is performed after the Baraat leaves for Bridegrooms house and is carried out whole night. Hence it is called JAGARNA. Bolian & Dholak is also accompanied with this dance.
Surma:: This song in Dogri, set to dance reveals the anguish of a newly married girl whose husband is away in the Army. The ever increasing yearning of re-union is depicted through this song-dance.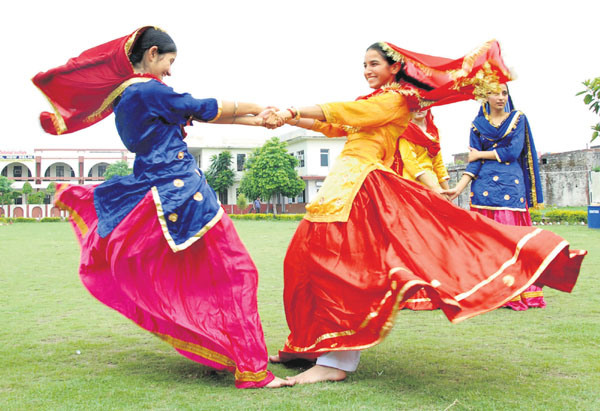 Keekli:: It is a simple but entertaining dance. No instrument is used. The girls perform this dance. They catch hold of each other's opposite hand and rotate themselves quickly but in a balanced way. The main instruments played with these folk songs and folk dances are algoza, Dokra, Sarnai, Glass, Thumbak Nari, Sargi, flute, Dholak and Dhol etc.
GWATRI: A dance form in which singers narrate some text on which gwatri dancers perform.

Read also: 3 Superstitions of Dogra's to guess if there is a guest coming over today
LETRI: It is a dance performed by the people who are invited to cut the grass, so it is also termed as labour dance. Around 10-15 people are invited to cut the grass alongwith a drum player who plays the drum and grass cutters dance on rhythm .They are served with lunch and ghee after they complete their work.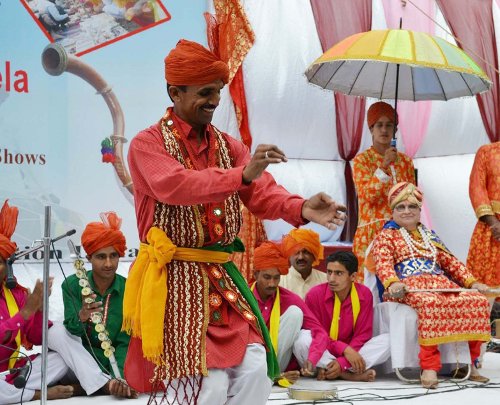 Kud dance is performed by the locals of Jammu's middle mountain ranges. This dance ritual is performed to honour the Lok Devatas/Gods. Performing or doing a Kud dance is expressing gratitude and thanking the Supreme for protecting the life of the people, their children, their crops and cattle. This ritual is generally personated by farmers who thank God for protecting them against all sorts of natural calamities. Kud dance is also a celebration for the successful harvesting of the crops, especially the maize.
CHOWKI NAACH: It is a religious dance performed in the honour of Kul Devta wherein people assemble in the temple on a particular day and perform Jaattar  with iron chains in their hands while singing devotional songs simultaneously.
Read also : 14 Ways To Protect Dogra Virasat
KARAK: It is a tale ballet singing form sung by a group of Jogis . They narrate a popular folk tale in their dance style performed by three members of their group using typical folk instrument "rabaab"
PHUMMANIYAN: It is a dance performed by the people belonging to Kandi belt on the occasion of Gugga Navmi ( a religious festival celebrated day after Janamashtmi) around August to September. Phummaniyan actually means movement of the body with gestures (mudras).An ensemble of drums, trumpets and cymbals provide music  on which dancers sway like Nag Devta.
Read also: 8 Things You Didn't Know About Radio Kashmir Jammu – That Completes 70 Years
Chajja Dance: It is the dance performed by the young boys during Lohri celebrations.  Chajjaa from bamboo is prepared and decorate it with coloured paper. Carrying the Chhajja, they perform 'Chajja dance' and move from house to house in the village/towns singing and shouting 'Bhambora bhai bhambora, chhaja mora bhai chhaja mora…'.