When local administration in Jammu ordered restriction of Internet services beginning from April 17th afternoon, it was the 75th such instance when Jammu & Kashmir n government had shut down Internet in last four years.
35 in a year is the highest number of Internet shutdowns ordered by a state in year 2017 and lowest in 2012, 3 in a year . Jammu and Kashmir, with 74 such instances in last seven years, leads the table, a tracker website maintained by the Dehi-based non-profit legal services organization Software Freedom Law Centre has revealed.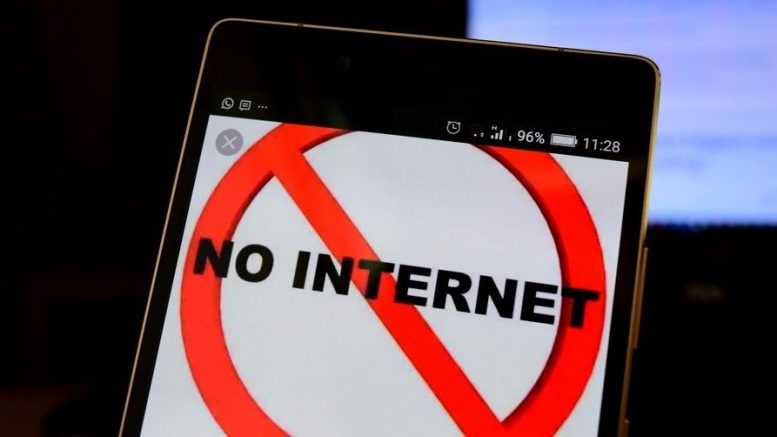 The tracker– www.internetshutdowns.in – shows that since 2012, Internet has been shut down in different parts of India 165 times.
Earlier, following an encounter with militants in Jammu and Kashmir's Kulgam district, which lead to killings of a civilian and an army personnel, Internet services were suspended in Anantnag & Kulgam districts of Jammu & Kashmir on Wednesday, 11th April 2018.
Internet was shut down in Jammu & Kashmir fourteen times in 2018, 32 times in 2017, 10 times in 2016, and 5 in 2015.
Internet shutdowns have been expressly condemned by the international community, including the United Nations, for violating fundamental human rights such as freedom of speech and expression, said Prasanth Sugathan, legal director of SFLC.IN
Who can order Internet shut down?
The central government had in August last year notified rules to regulate the temporary suspension of telecom services due to "public emergency or public safety". The notification issued by the Union ministry of communications, under the Indian Telegraph Act, 1885, codified the rules as the Temporary Suspension of Telecom Services (Public Emergency or Public Safety) Rules, 2017.
As per the notification, the "competent authority" for issuing directions to suspend the telecom services in case of Government of India is Union home secretary, and in case of state government, the state home secretary. "An officer, not below the rank of a joint secretary" can issue such an order "in unavoidable circumstances" subject to "confirmation from the competent authority within 24 hours."
As per the Centre's notification, the order to suspend the Internet services along with a copy detailing the reasons for the same should be submitted to a three-member review committee — led by cabinet secretary in case of Government of India, and by chief secretary in case of state government.
It couldn't be immediately clarified if all the 74 cases of Internet shutdowns were reviewed.
(With inputs from online reports)