He is curt, takes quick decision, isn't afraid of anyone and people call him Dabang policewala. Almost every driver on Jammu roads these days is terribly afraid of this man. Sometimes he comes with a warning and sometimes not. Hailing from Orissa, son of a farmer, a JNU alumunus, and an IPS officer of 2000 cadre, he is the new IGP Traffic, Basant Kumar Rath.
Newspapers are talking about him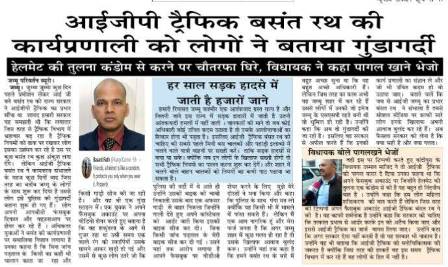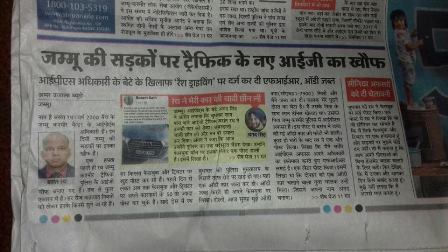 He is using social media aggressively and so are Jammuites. People are sharing memes about him. How often does anybody local here achieves this status of having memes made about him; no one but Mr Basant Rath. Here are the most famous ones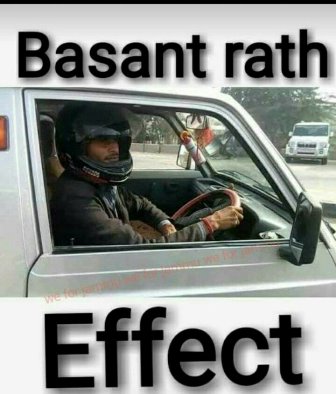 Since he assumed the charge of IGP Traffic, from February 9, he has constantly been on the go. His is being followed by around 20000 people on facebook, an account which apparently has been active since the last week only. Here are some of his posts

He can be the man behind postponement of two of KAS Mains exams. He was the one who wrote to the CM enlightening her about the status of closed highways and got the exams deferred.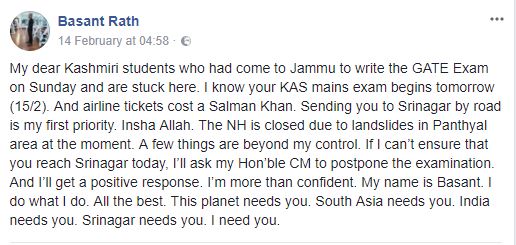 An encouraging fact about him is that he constantly seeks feedback from the public.
Despite his tireless efforts to improve traffic conditions in Jammu and Kashmir, there are many who do not agree with his method of working. He turns out to be too rude and too harsh for some.
Rath recently seized the car of an Army official, who happens to be the son and son-in-law of two senior serving IPS officers – who have both functioned as IGP Traffic in J&K. Both, Rath and the Army official have applied to register FIRs against one other.
In a separate incident, Congress MLA Usman Majeed alleged in a video that the IGP Traffic was "acting like a goon". He has also raised questions over the IPS officer's "indecent and insensitive posts" on Facebook, including Rath's condom-helmet analogy.
And Mr Basant is quick to accept the truth as he himself posts this on his facebook account
"I'm human and I'm in a hurry. I expect myself to commit mistakes. And I expect myself to learn my lessons as well"
 "I promise I'll improve Jammu's traffic situation. And myself"
And he is not just brawn but brains too. He has done Masters Degree in Sociology from Bhubaneshwar. He was pursuing PhD in Sociology from JNU when he qualified the Civil Services Exam. He could have easily become a bureaucrat but he chose to join IPS to treat criminals. He is also a writer at the Wire, a famous online news portal.
Hailing from Odisha and an alumnus of Jawaharlal Nehru University (JNU), Rath compiled his first collection of English poetry, titled Own me, Srinagar in 2012.
Influenced by the late Kashmiri-American poet Aga Shahid Ali, Rath's first poem, titled Pindi, Pindi, Pindi was based on the flood of Kashmiri youth crossing the LoC in 1989 to get arms and training from Pakistan.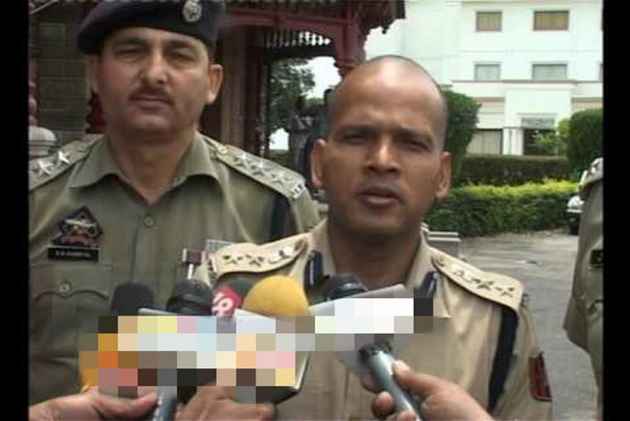 Pindi, Pindi, Pindi, by Basant Kumar Rath
I'm 1989 and old enough
To trek all night
In an unknown forest
Among the known mountains
Under the moth-eaten moons.
No drinking water.
No candy wrapper.
No smoking. No coughing.
No humming of a wedding song.
Under the sleeping eyes
Of a night vision device
May the light machine gun sleep long.
Here's another of Rath's poems:
Gawkadal
You are seven shocked policemen
Who came to collect fifty eight dead bodies.
Angry but helpless, helpful but unlucky,
They loaded the truck and drove
To the police control room.
Facebook and WhatsApp groups in J&K are currently abuzz with criticism and appreciation of Rath's style of functioning. While as some extol him as "an upright officer" and "man of high integrity", others have been virulently calling him a "loose cannon", while citing his language and tone on social media and questioning the government's wisdom behind appointing him the IGP Traffic.
He definitely is no narcissist and repeatedly seeks inputs from the public regarding traffic problems. He can be reached at his email address piplipuri6@gmail.com. He also allows people to send him videos and pictures of traffic violations on his whatsapp number 9419018689. But before you call him or send him any message, remember his disclaimer
"…One useless message, you are blocked. No good morning GIFs please. And no calls. Or else, it'll be your loss. Not mine. I love you"
(With inputs from online reports)