On February 10, a group of heavily armed Jaish-e-Mohammad (JeM) terrorists entered the Sunjuwan army camp after hurling grenades and using automatic gunfire. While Pakistan has denied the involvement of terrorists based on its soil, JeM chief Maulana Masood Azhar has not shied away from claiming credit for his role. In an audio clip, Azhar brags about carrying out the attack at Jammu army camp that killed five Indian soldiers and a civilian.According to TOI, this is what JeM chief Maulana Masood Azhar told his cadres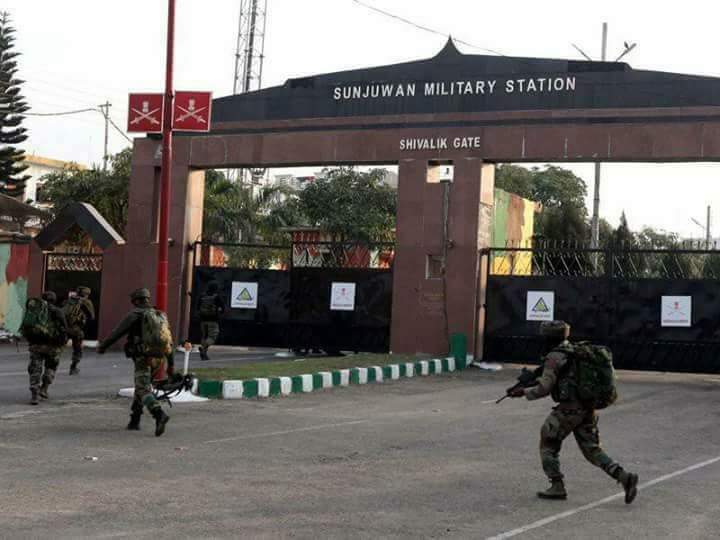 "Indians are baffled at how our 'mujahideen' reached Jammu from Kashmir. Sunjunwan is not on the border but inside the heart of Jammu.
Azhar revealed how he and his cadres are working with other terror outfits to launch simultaneous attacks in Jammu and Kashmir.
"While Jammu terror siege was still on, our men set Srinagar afire".
Azhar also mocked Indian agencies for not being able to ascertain the total number of terrorists at the Jammu army camp.According to TOI, Intelligence agencies of central and western Army commands obtained the audio barely a week after three Jaish-e-Muhammed fidayeen (suicide attackers) launched an attack at 36 Brigade campus in Jammu.Saturday's attack on the Sunjuwan camp in Jammu was the worst in months, with five soldiers and the father of one of the soldiers killed, and women and children among the ten wounded.
ALSO READ: Everything You Need to Know About Jammu Sunjwan Army camp Terror Attack – Timeline, Facts And Lessons
Who is Maulana Masood Azhar?
In 1999, Maulana Masood Azhar was released in exchange for the hostages aboard IC-814, which was hijacked and routed to Kandahar, Afghanistan. Upon his return to Pakistan, he floated the Jaish-e-Mohammad. This outfit then carried out the deadly Parliament attack. Since then the Jaish has carried out a series of attacks in India. Several requests have been made to Pakistan to either extradite him or at least put him to trial.
None of those requests were accepted by Islamabad as he along with the Lashkar-e-Taiba's Hafiz Saeed continue to remain the ISI's most strategic assets.Azhar continues to warn of his efforts to separate Kashmir from Jammu.
Pakistan lies exposed
Not only has Pakistan denied any involvement, it has also warned New Delhi against cross-border strikes after Indian authorities blamed Pakistan-based Jaish-e-Muhammed (JeM) for an attack on an Army camp in which soldiers and their families were targeted."It is a well-established pattern that Indian officials begin making irresponsible statements and levelling unfounded allegations, even before any proper investigation in any incident has been initiated," Pakistan's foreign ministry said in a statement."We hope that the international community would urge India to stop the untold atrocities and gross violations of human rights in LoK (Indian Occupied Kashmir) (and) refrain from any misadventure across the Line of Control…" it said.
300 militants in Pakistan ready to enter India
India has long accused Pakistan of training and arming militants and helping them infiltrate across the Line of Control into Jammu and Kashmir.More than 300 militants are waiting across the Line of Control (LoC) in Pakistan to infiltrate into India, the Army said. Lt Gen Devraj Anbu told the media at the Udhampur headquarters of the Army's Northern Command: "(A total of) 185-220 terrorists in the south and 190-225 terrorists in the north of Peer Panjal are … ready for infiltration."The officer said the Pakistan Army had a direct role in planning terror attacks in Jammu and Kashmir, which is divided between India and Pakistan.
Pakistan will pay heavily: India
On Sunday, Defence Minister Nirmala Sitharaman visited Jammu to take stock of the situation following the attack. She blamed Pakistan for the attack and said Islamabad will pay the price for the "misadventure"."Pakistan will pay for this misadventure. I repeat Pakistan will pay for it," she told reporters.Asked whether the Indian government was sharing evidence with Pakistan, Sitharaman said "yes"."Yes, all the evidence, which have been collected will be compiled and definitely the evidence will be given – as always – to Pakistan. But Pakistan, in spite of being given dossiers after dossiers, has not taken any action," she said."It's a condemnable act. This shows the cowardice of Pakistan who can't face India directly and sends its people to attack civilians here. There are family quarters around the camp, so the army is taking precaution in cordoning the area," deputy chief minister of J-K Nirmal Singh said in the morning.
This post originally appeared on Business-standard.