The government's claim of creating tourism infrastructure in the state has fallen flat as the number of tourists arrivals in the state is decreasing with each passing year.
Except the Vaishno Devi shrine and the Amarnath cave, almost all other tourist destinations in the state have witnessed a dip in tourists in the last six years.The Tourism Department last year spent a huge amount by participating in two international events at Berlin and Thailand, but it failed to attract foreign tourists.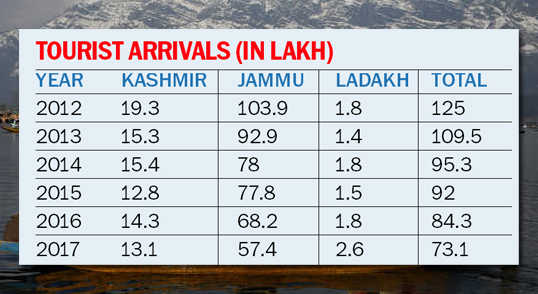 The state also organised 22 national travel marts at Kolkata, New Delhi, Chandigarh, Dehradun, Mumbai, Gurgaon, Chennai, Jaipur, Hyderabad, Pune, Bhubaneswar, Ahmedabad, Surat, Viskhapatnam and Jammu, but the tourists arrivals did not see any uptick.
According to the official data, the number of tourists in J&K has decreased from 1,25,02,501 in 2012 to 73,09,285 by October 31, 2017.
Even though the tourism sector accounts for around 6.98 per cent of the state's GDP, J&K is not among the top 10 domestic destinations in the country on the basis of the number of tourist arrivals.
The Ladakh region in the only place in the state which has witnessed an encouraging hike in the number of tourist arrivals. In 2015, 1,46,501 tourists arrived in Ladakh. The number reached 2,59,170 by October 2017.
Read also: Things to Know about  Zojila tunnel project
Ladakh has been a much sought-after destination especially for foreign tourists. The region is home to salt and fresh water lakes and sand dunes. Its Buddhist culture, paintings, sculptures and ancient books preserved in monasteries are an additional attraction for tourists.