Since beginning of the year, the army pursued an aggressive anti-terror policy in Jammu and Kashmir, at the same time, forcefully responding to all ceasefire violations by Pakistani troops along the Line of Control with a tit-for-tat approach.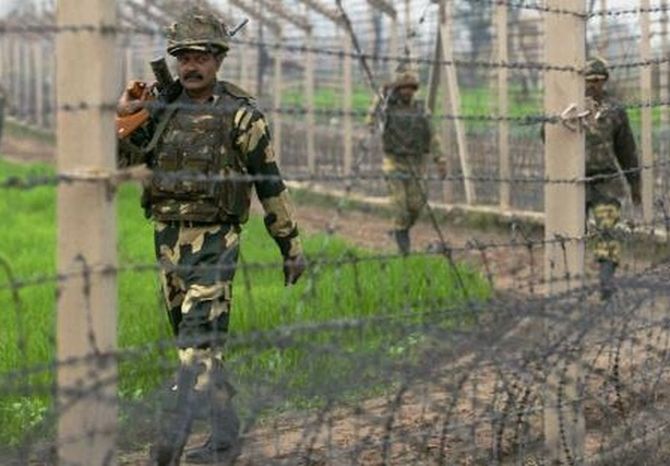 According to official figure, a total of 820 incidents of ceasefire violation by Pakistani troops were reported in 2017 as against 221 in the year before, reports Firstpost.com.
There was a 230% increase in ceasefire violations along the Line of Control (LoC) this year compared to 2016, the government informed the Lok Sabha in December 2016.
The truce between India and Pakistan along the International Border, the Line of Control and the Actual Ground Position Line in Jammu and Kashmir came into force in November 2003.
India shares a 3,323-km-long border with Pakistan of which 221 km of the IB and 740 km of the LoC fall in Jammu and Kashmir.
In 2016, there were 449 incidents of ceasefire violations in which 13 civilians and 13 security personnel were killed and 83 civilians and 99 security personnel were injured.
In 2014, there were 583 incidents of ceasefire violation in which 14 civilians and three security personnel were killed and 101 civilians and 28 security personnel were injured.
In 2015, the number of ceasefire violations was 405; 347 in 2013, 114 in 2012, 62 in 2011 and 70 in 2010.
There have been nearly 12,000 ceasefire violations by Pakistan since 2002, which have resulted in the killing of 313 people, including 144 security forces personnel.
The highest number of such violations took place in 2002, when 8376 incidents were reported while 2045 incidents of ceasefire violations were reported in 2003, reports Economic Times.
Though Pakistan blames India for ceasefire violations, but the Indian official data reveals that militants made 130 infiltration bids in 2017, a slight decrease when compared to past. In 2015, there were a total of 310 infiltration attempts that came down to 270 in 2016.
Official sources revealed to news agency CNS that this year 59 militants were neutralized who tried to infiltrate into this part of Kashmir. The number was 30 in 2015 and 37 in 2016.
Army foiled 33 infiltration bids this year. The number of infiltration bids foiled by army in 2015 was 18 while in 2016 it was 27.
Official data further reveals that 61 soldiers have been killed this year in Jammu and Kashmir. The number of slain soldiers previous year was 63 while in 2015 it was 33 only.