Dera Sacha Sauda chief Gurmeet Ram Rahim Singh was found guilty of rape by a special CBI court in Panchkula, Haryana, on Friday. He was immediately taken into judicial custody; he will be sentenced on Monday. This has effected more than ten trains were today cancelled from Jammu Tawi Railway Station in view of Court verdict on Dera Baba Ram Rahim.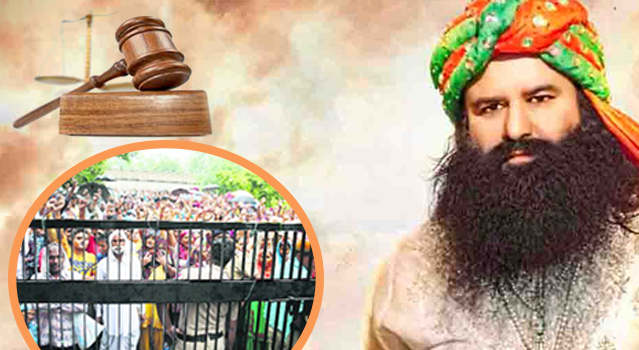 "Over 10 trains have been cancelled from Jammu Tawi Railway Station due to Law and Order condition at Haryana and Punjab ahead of Ram Rahim Verdict," an official here said. He said that there is heavy rush of passengers at the platform, adding, "initially the suspension of trains is for 48-hours but may exceeds depending upon the situation in neighbouring states."
He said people early morning rushed to the platform to cancel their bookings. All trains from Katra were cancelled.
Over 600 followers of Dera Sacha Sauda chief Gurmeet Ram Rahim Singh known as 'Premis' gathered in a 'Naam Charcha Ghar' of Moga, where they prayed for his good health and release from the Panchkula CBI Court. The CBI court is set to deliver verdict in a rape case against Dera chief.
Large number of Dera followers also gathered at Slabatpura near Nihal Singh Wala of Bathinda district. One of the followers of the Dera chief said, 'anything can happen' if their spiritual leader is indicted.
Watch Video:

All you need to know in 10 points about Dera Sacha Sauda chief Gurmeet Ram Rahim Singh
*The rape allegations against Gurmeet Ram Rahim date back to 2002, when a Dera sadhvi wrote an anonymous letter to then Prime Minister Atal Bihari Vajpayee saying she was raped by the Dera chief.
*In the letter, the sadhvi also accused Gurmeet Ram Rahim of raping several other female followers inside the sprawling Dera campus on the outskirts of Sirsa in the state of Haryana.
*The Punjab and Haryana high court took suo motu – of its own accord – cognizance of the sadhvi's letter and directed the CBI to register a sexual exploitation case against the Dera chief in 2002. The CBI then registered a case against Gurmeet Ram Rahim, based on the sadhvi's letter.
*The investigating agency questioned 18 sadhvis and two of them levelled allegations of rape against the spiritual leader. One sadhvi said that her rape was "justified" on the grounds that it would "purify" her.
*Both sadhvis who said they were raped recorded their statements before the court and reiterated that they were raped. Their statements are part of the CBI chargesheet which was filed on July 30, 2007 in the special CBI court.
*One of the sadhvis said in her statement that when she entered the Dera chief's sprawling chamber, the doors automatically closed and she found him watching a pornographic movie on a big screen. The CBI is said to be banking heavily on this statement as only a select few have access to that chamber.