Written by : Abhishek
On the same day when some women in our country were rejoicing for their new-found freedom, some young women were out on roads in Jammu; on account of "harassment". The girls were protesting against so called 'harassment due to dress code'.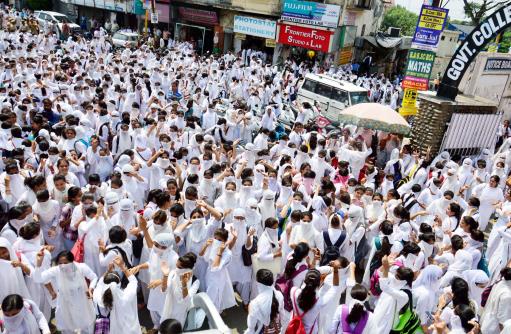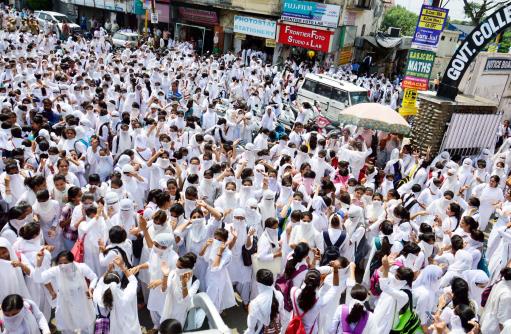 The public was divided over the issue. Some stood with the girls' while the rest with the college management. But why at all do we tend to take stands so quick? The protests were ugly and had the public stranded as matadors couldn't ply over the route!
The protesting girls had no agenda to being with. The situation was so funny that while one girl gave one reason of her protesting, the girl next to her gave a completely different story of hers. Most of the girls protesting outside the college gate had their faces covered; seems like they were professional protestors! While some girl complained against the principal, the others put serious allegations against the watchman. To add fuel to the fire, some girls brought religion in the entire issue. They were blaming the college authorities of being against religious dress up.
One can raise serious questions against the protesting girls right away. The authorities seem serious about the dress code that the girls stick to college uniform. The college has every right to do so. The college always had had this uniform; you either agree to it or else move over to another college.
If there are certain rules as to when one can enter and when one can exit, there is no point demanding your right or freedom. This is how our schools and colleges work! The watchman is part of the college system; if he is told not to allow girls inside after 9, for example, he has to follow the orders. If the girls have problem with a male watchman, they better ask for a female one, but it is downright mean to malign the poor man just because he didn't let you in!
I am certainly against protesting against tyranny but so far wearing college uniform and punctuality are in no way "harassment". Every other "harassment" can be reported to the police; it is never allowed to disturb the entire city for your demands!
LATEST: All other allegations have been put aside and now all guns are pointing towards Anita Sudan, the principal. Seems like they've got someone to go against finally! In a live video update by the News Now, it can be seen that girl power wasn't enough to fight for their cause and now some wannabes* from outside the college have also joined in the fight.
*Wannabe is short for WANT-TO-BE. Wannabes are those who want to be leaders.