Ram Nath Kovind was on Tuesday sworn in as India's 14th president, the first BJP leader and the second Dalit in the Rashtrapati Bhavan.
Honoured to be sworn in as the 14th President of India; would be carrying out my responsibilities with all humility #PresidentKovind

— President of India (@rashtrapatibhvn) July 25, 2017
Kovind was administered the oath of office to "preserve, protect and defend the constitution and law" by Chief Justice of India J S Kehar in an impressive ceremony in the Central Hall of Parliament.
The 71-year-old took oath in Hindi to thunderous applause and thumping of desks by the gathering, including Vice President Hamid Ansari, Lok Sabha Speaker Sumitra Mahajan, Prime Minister Narendra Modi, outgoing President Pranab Mukherjee and former president Pratibha Patil.
 Once the oath taking was over, Kovind and Mukherjee exchanged seats on the dais after which the new president delivered his maiden speech as president.
Here is the full Video of his acceptance speech: 

Here are 14 important things you should know about the new president:
1. Kovind becomes only the second Dalit president after RK Narayanan since Independence to occupy India's highest ceremonial post.
2. As the head of the government, Kovind becomes the ceremonial owner of 51 per cent of all the central governemt PSUs worth lakh of crores.
3. Born on October 1, 1945, in Uttar Pradesh's Kanpur Dehat, Ram Nath Kovind was the youngest among among three brothers. After graduating in law from a Kanpur college, Kovind had gone to Delhi to prepare for the Indian Administrative Services. He failed to pass it twice but made it in third attempt. He, however, did not join as he was selected for the allied services and started practising the law.
4. He entered politics in 1994 when he became a member of Parliament in Rajya Sabha from Uttar Pradesh and served as an MP for two consecutive terms till 2006.
5. Married to Savita Kovind, Ram Nath Kovind has a son Prashant Kumar, and a daughter, Swati.
6. Kovind, an advocate by profession, used to practice in Supreme Court and Delhi High Court.
7. He had represented India in the United Nations in New York and addressed United Nations General Assembly in October 2002.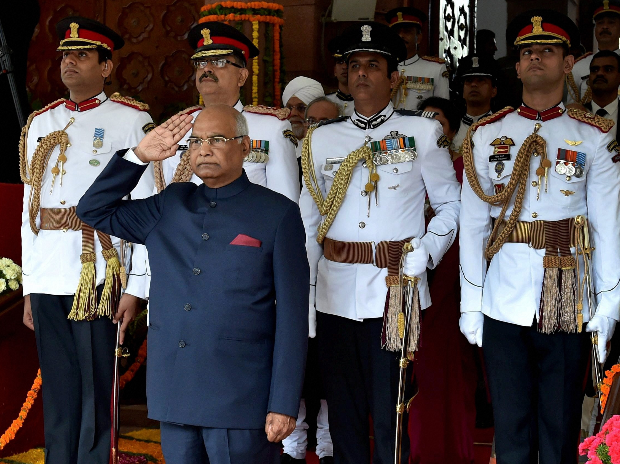 8. In 1977, Kovind had worked as the private secretary of then Prime Minister Morarji Desai. Later Kovind had also served as national spokesperson of BJP.
Watch Video: Hilarious Dogri Poem
9. On August 8, 2015, Kovind was appointed governor of Bihar.
10. He is a former President of the BJP Dalit Morcha (1998-2002) and President of the All-India Koli Samaj as well as the SC/ST representative at IIM-Calcutta.
11. Kovind served as a member of the Board of Management of Dr. BR Ambedkar University, Lucknow. He was also a member of the Board of Governors of Indian Institute of Management, Kolkata.
12. He had donated his ancestral house in his native village in Kanpur as baraatghar or community house to the village.
13. Gujarat's resident commissioner Bharat Lal has been appointed as teh joint secretary to the new President. Sanjay Kothari, chairman of the Public Enterprises Selection Board, will serve as secretary. Journalist Ashok Malik will be Kovind's press secretary.
14. In the 2012 Presidential polls, Pranab Mukherjee had defeated PA Sangma by over  69 per cent votes.