Around 10,000 Bajrang Dal members from across the country will visit the Kashmir valley on July 31 to "motivate soldiers and to rekindle a sense of patriotism in civilians", Vishwa Hindu Parishad's Konkan Zone said at a press conference in Mumbai on Friday afternoon.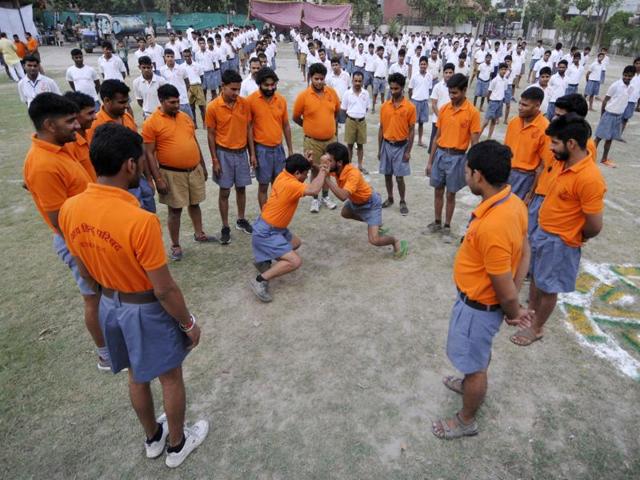 Condemning the Anantnag terror attack that claimed the lives of seven pilgrims and injured 19, VHP Maharashtra and Goa zonal secretary Shankarrao Gaikar said, "We stand against terrorism, and are therefore sending 10,000 Bajrang Dal volunteers who will collectively work towards boosting the morale of our soldiers and rekindle the sense of patriotism amongst citizens."
VHP has also charted out a course for the Central and the State Governments to curb the rise of terror in the Valley.
The list opens with an appeal to boycott all Kashmiri items and shops, followed by a demand to repeal Article 370 of the Indian Constitution which grants special autonomous status to the state of Jammu and Kashmir.
They also appealed to the masses to stop employing Kashmiri Muslim youth in various sectors, especially in the Indian Security Forces.
"There are umpteen incidents of them running away with weapons and ammunition to use the same against our own security forces and people," the list of demands of the VHP Konkan zone states.
"Rather than being in denial and calling them 'wayward kids', Government of India and State Government of Kashmir must pinpoint the jihadist elements in Kashmir as well as their support bases in other parts of Bharat and in the world. Then attack them to the final conclusion and put an end to continued lynching of all by these jihadists," the list states.
PLAN OF ACTION
The 10,000 Bajrang Dal volunteers are expected to work towards boosting morale of soldiers
VHP has also charted out a course for the Central and State governments to curb the rise of terror in the Valley