Lucknow, July 13 : From petty crimes, it was just a matter of time that Sandeep Sharma, the youth from Muzaffarnagar arrested by Jammu and Kashmir police for 'waging war against the country' on Monday, got sucked into jihad after falling in love with a Kashmiri girl.
During questioning, sleuths from anti-terror squad (ATS) of UP police found out that when Sharma was given arms training by Lashkar-e-Taiba (LeT), he was also involved romantically with a local girl.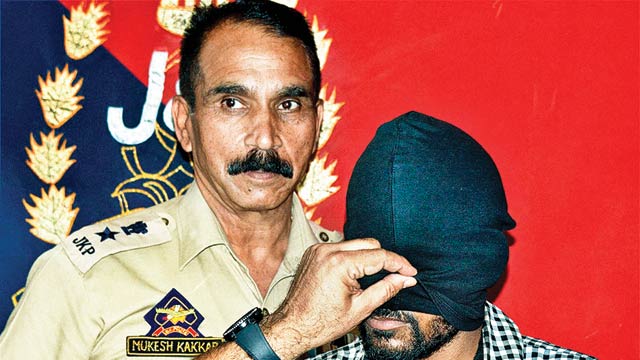 Having a driving licence in his original name, Sharma was used as a driver by terror operatives in the Valley to move weapons from one location to the other, stated the interrogation report.
Sleuths have also found out that Sharma was wooing not one but multiple Kashmiri girls and intended to marry one of them 'at any cost'. "He converted to Islam and named himself Adil to fulfil the condition set by girl's family about a year back.
He also underwent arms training in Kulgam last year in November and December," said ATS inspector general Asim Arun.
Sleuths from Uttar Pradesh who were sent to question Sharma have learned that Sharma intended to marry one of the girls soon. Male members of the girl's family encouraged Sharma to join jihad and convinced him to take up arms, the sleths say.
According to ATS sources, Sharma left his town in Muzaffarnagar and moved to Punjab six years back in search of employment. Having learned basics of gas metal welding from his father before he passed away, Sharma found work in the same trade at Patiala. "A lot of young men from Kashmir shift to Himachal Pradesh, Punjab and other parts of the country during winters.
He came in contact with some mischievous Kashmiri youths in Patiala. He started going to Kashmir during summer season there after for odd jobs along with them," added Arun.
He took to petty crimes such as thefts of construction material before progressing to ATM heists and them learned to operate arms. On June 16, when six policemen were gunned down in Achabal area of Anantnag district, it was Sharma who drove the motor vehicle ferrying terrorists, the ATS sources say.
 On Monday, Jammu and Kashmir police arrested Sharma and Kulgam resident Muneeb Shah for terror crimes. The duo's role is suspected in half a dozen ATM booth robberies reported from Sophian, Kulgam and Pulwama. "Post demonetisation, ATM heist cases have gone up in the Valley and the money is being diverted to fund terror crimes," said an ATS officer.