Written by Anmol Gupta 
Manchester, London, Nice, Paris, Orlando, Berlin, Birmingham have all been hit by terror over the past few months. While Europe grapples and ponders whether living alongside terrorism should be the new normal, this has been the fate accompli for the people of Jammu for the past three decades. Jammu for no fault of its own has been a constant target for Jihadis seeking to internationalise the Kashmir issue and to scare the inhabitants (of the region) who strongly identify themselves with India. A fact which often goes unacknowledged is that no other city in India has suffered as much at the hands of the terrorists as has our city of Jammu. Every Jammuite living in the city during the 1990s or 2000s has witnessed terrorism from close quarters.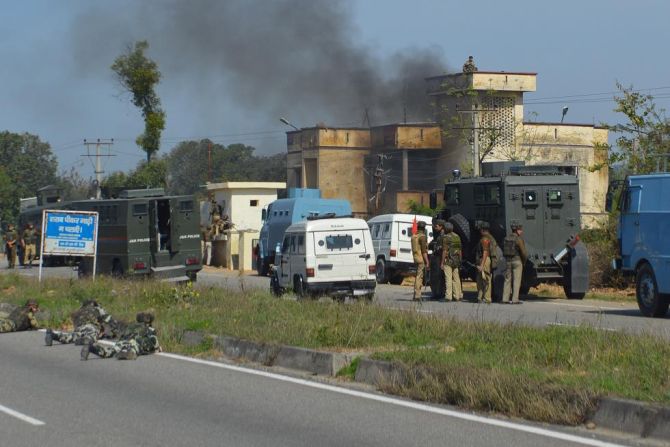 Although, I do vaguely remember the panic that had engulfed the place when Kashmiri Pandits migrated en masse to the city, my first memory of a major terror attack on Jammu is from 1995 when terrorists struck the Republic Day Parade at the M.A. Stadium. In the midst of watching the Republic Day Parade on the national broadcaster, news of multiple bomb blasts at the local Republic Day function reached my family. With my sister being a part of the group of children performing at the venue, my father rushed to the stadium and was uneventfully united with her within a matter of a few minutes. But that personally remains my first tryst with Terror (though indirectly) and is hence, firmly etched in memory.
For the next few years, the city was repeatedly attacked by terrorists. During the 90s, while bomb blasts were quite frequent, there were several instances of grenades being hurled at the normal public as well. Some said that the terrorists wanted to internationalise the Kashmir issue, others told that they want to scare the Hindus into migrating to other parts of the country just like they did with the Kashmiri Pandits and hence, were targeting Jammu again and again. If there were no direct attacks in the city, the people were reminded of the Terror around them with several instances of massacres of minorities in Doda, Rajouri, Kishtwar and Kashmir. I do vaguely remember a grenade being lobbed and a bomb blast (two separate incidents over a span of few years) in the Shahidi Chowk/ Residency Road area of Jammu but with the internet being in its infancy back then, could find no information on these attacks. However, major terror attacks from the mid 90s to mid 2000s that struck the city have been compiled below:
Chronology of Major Terror Attacks in Jammu ( till 2006)

Date
Location/Details
No. of People Dead
Nov 22, 1994
Bomb Explosion in Bus
9
Jan 26, 1995
Multiple Blasts at M.A.Stadium, Jammu during the Republic Day Parade
8
July 20, 1995
Bomb explosion at Purani Mandi
19
July 26, 1995
Bomb explosion at Hari Market
1
Mar 22, 1997
Multiple Bomb Blasts at Jammu Bus Stand
15
Feb 12, 2000
Bomb Explosion near GGM Science College, Jammu
5
March 30, 2002
Terrorist Attack at Raghunath Temple, Jammu
11
May 14, 2002
Terrorist Attack at Kaluchak, Jammu
23
July 13, 2002
Terrorist Attack at Qasim Nagar, Jammu
29
Nov 24, 2002
Terrorist Attack at Raghunath Temple, Jammu (2nd time during the same year)
14
Jan 2, 2004
Terrorist Attack at Railway Station, Jammu
4
June 12, 2006
Terrorist Attack on Vaishno Devi bound Terrorists
1
Call it a coincidence but during my tenth and twelfth standard board exams, my mathematics exam on both occasions took place on the day of a Curfew. While, Sikhs had been massacred in March 2000 in Chhitisinghpora Village of Kashmir, Raghunath Temple was attacked by Terrorists in March 2002. The twenty first century had started but as a Jammuite my tryst with terror (though still indirect) continued. The year 2002 was particularly a bad year for Jammu as terror struck the city directly on 4 different occasions with the much revered Raghunath Temple being attacked twice in a span of 7 months. The most lethal of these attacks was at Qasim Nagar where a group of labourers listening to the radio commentary of India-England cricket match (during a power cut) were mercilessly shot dead by a band of terrorists.
Although, Jammu's rendezvous with terror continues to this day, the frequency of the attacks has certainly reduced in comparison to the 90s and the early 2000s. It seems that with terrorists getting far greater publicity from an attack on Mumbai, Delhi, Pune, Hyderabad or some other big city (or the Amarnath Yatra), the city of Jammu which ranks as the 92nd largest city in India has been spared for the time being. This globalization of terror has benefited the people of Jammu if only in the short term. With no end in sight as far as terrorism in Kashmir or the world is concerned, one can only hope that the frequency of terror attacks on Jammu which has reduced since 2005 continues in the days to come.
Post Script: While working with IDBI Bank at their Cuffe Parade, Mumbai office I was to have a final indirect encounter with terror and this time outside Jammu. Catching a local train from the Chhatrapati Shivaji Terminus (CST) at around 8 pm to return home, I had little idea that a man called Ajmal Kasab was about to open fire at the very station in half an hour's time.